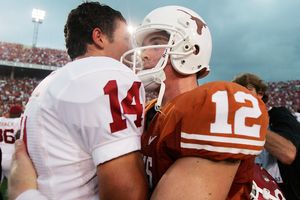 For those of you that live under a rock, this weekend is OU/TX weekend. And btw, you really should climb out from under that rock. It's not healthy, or sanitary for that matter. And probably uncomfortable. But I digress.

OU/TX weekend. Arguably the biggest rivalry in college football. This year there's a bit more at stake than mere bragging rights. My boys are the #1 team in the country, and I'd like to thank Coach Stoops, Sam Bradford, Juaquin Iglesias, DeMarco Murray, Jermaine Gresham, Chris Brown, well—the entire OU team, Oregon State, Alabama, and Tennessee. Your efforts have been spectacular. Texas comes into the game at #5. Not too shabby. But really, neither of us has played much of anyone.

Back to the matter at hand. Saturday, 11am.

"The Texas-Oklahoma football game -- or the Oklahoma-Texas game depending on your slant in the rivalry -- is the bedrock of Big 12 football." –ESPN's Tim Griffin

"If OU-Texas (or, to be non-partisan, Texas-OU) is not the essence of college football, we don't know what is." – John Walters of MSNBC

"Crank up the deep fryers at the State Fair and turn up the volume on "Boomer Sooner!" and "Texas Fight!" The Texas Longhorns can finally start talking about the showdown with No. 1 Oklahoma. No more of this taking the season "one game at a time" stuff. Texas-OU is THE game..." – AP's Jim Vertuno

Yep. It's a big one. My prediction? A close game in the first half, but expect OU to widen the victory margin in the 2nd.


Boomer Sooner, Boomer Sooner…